With recent changes in technology, including a heavy uptick in automation and the proliferation in machine-learning, the employment landscape has undergone profound changes. As a result, young people are adapting to new realities of the workplace and rethinking the skills they need to compete.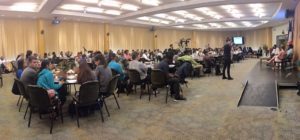 JobsFirstNYC's annual Adapting to the Future of Work: Skills for Tomorrow's Economy, held on July 20, 2017, brought together more than 200 young New Yorkers to discuss the changing economy, future workforce trends, and economic equity. In partnership with the New York City Department of Youth and Community Development (DYCD) and Young Invincibles, we heard from panelists about internal talent pipeline development, multi-sector partnerships, employer engagement, possible evolutions of the nonprofit, and the ever-changing on-demand economy. All of our panels and speakers grounded their message in how to leverage different resources to best help out-of-school, out-of-work 16- to 24-year-olds access economic opportunities. The convening provided an opportunity to reflect, share experiences, perspectives and responses to the changing economy and at the same time give thought to understanding and preparing for the future.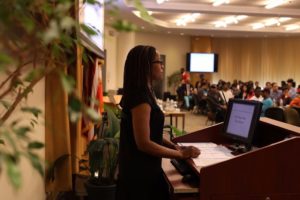 Marjorie Parker opens the session
The convening highlighted the skills that are essential in today's changing job market. Given the state of the economy, mixed livelihoods and self-employment are dominating the scene. Entrepreneurship is often born out of necessity. Young people need marketable skills and inspiring role models with whom to engage. The conference made clear that 21st century young people in New York City see the changes in the job market and are deeply curious about the skills they need to succeed. Adapting to the Future of Work is an important step in JobsFirstNYC's path towards boosting youth employment by identifying the challenges and opportunities facing young people. We provide a space for young people to discuss the abstract concepts that have a very real implication on their future of work.
In her opening message, JobsFirstNYC's Executive Director, Marjorie Parker, warned that the traditional idea of a job is shifting. We are moving towards an economy with more gig-based, precarious-employment options where people are hired to do work, get a project done, and be ready to move on as the business's needs change. Parker went on to add that this conference — convened for the future talent of New York City — was designed to build upon lessons learned from last year's convening, thereby expanding the dialogue beyond merely what the future of work might look like into how to shape what it could and should be.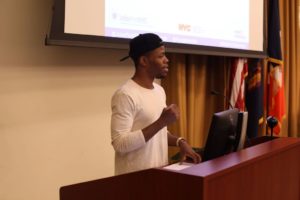 Derrius Quarles delivers his keynote
Building off of Marjorie Parker's opening, Derrius Quarles delivered our keynote address. Quarles is an unapologetic social entrepreneur, web designer, and author who secured over $1 million dollars in scholarship awards before entering Morehouse College where he graduated cum laude. The entrepreneur and author of Million Dollar Scholar spoke about overcoming obstacles and positioning oneself for success in this ever-changing job market. Addressing the mindset required to succeed in an economy driven by innovation and skills that will assist the attendees in becoming indispensable to potential employers, Quarles set the positive tone for the panelists and speakers to follow.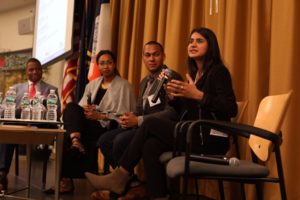 From right to left: Hannah Dehradunwala, Coss Marte, Rachel Cargle, Tony Gaston
The morning panel focused on Skills for Tomorrow's Economy and featured Rachel Cargle, an entrepreneur, activist and writer, and Founder and CEO of The Loveland Group and Co-Founder of The Ripple, who spoke about empowerment, networking and the advancement of women and girls worldwide; Coss Marte, a former federal inmate, and founder of ConBody spoke about how he did not let his past mistakes get between him and success; and Hannah Dehradunwala, Co-Founder and CEO of Transfernation, spoke about her tech-based solution to hunger and food waste in New York City. The panel was moderated by Tony Gaston, Senior Manger of Business Solutions, Per Scholas New York, and lifted up examples of successful young entrepreneurs and the skills they applied to get where they are for the audience to consider as they plan out their long-term career paths.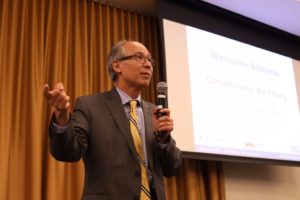 Commissioner Bill Chong welcomes young people to the lunch session
Our afternoon session kicked off by Commissioner Bill Chong of the NYC Department of Youth and Community Development, who welcomed the young adults back from their morning workshops Commissioner Chong has more than 25 years in senior management positions in the nonprofit sector and the City, State and Federal governments, and he spoke to the experiences that lead him to his appointment as Commissioner of DYCD.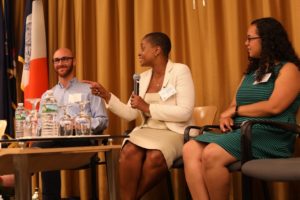 From right to left: Carmon De La Rosa, Tremaine Wright, Kevin Stump
The discussion continued with a panel discussion with New York State Assembly members Carmon De La Rosa of Assembly District 72 and Tremaine Wright of Assembly District 56 that was moderated by Kevin Stump, the Northeast Director of Young Invincibles. That conversation was followed by a panel focused on Opportunity Youth United: Identity, Advocacy, and Your Career, and featured Lashon Amado, Kimberly Pham, and Teresa Rivera representing the National Council of Young Leaders, and Jacob Patterson, the Founder of Gender Talk, and was moderated by Jamiel Alexander, a Senior Fellow with the Aspen Institute's Forum for Community Solutions and a member of the National Council of Young Leaders as well.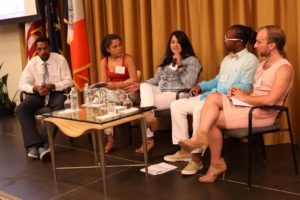 From right to left: Jacob Patterson, Jamiel Alexander, Kim Pham, Teresa Rivera, and Lashon Amada
Both panels came at the same question from different angles, specifically what are ways young adults can ensure their voices are heard and their priorities considered by their local elected officials and policy makers? Opportunity Youth United discussed this as career advocates, whereas the Assembly members spoke from their perspective on what has helped to shape their opinions. The session was closed by Najee Omar, a Spoken word artist, Educator and Founder of Spark House artfully articulated the struggles facing young people, the importance of living in one's truth, and equity as it relates to the future of work.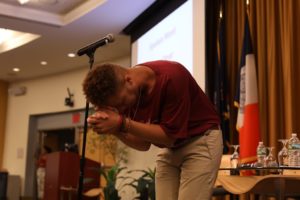 Spoken word artist Najee Omar takes a bow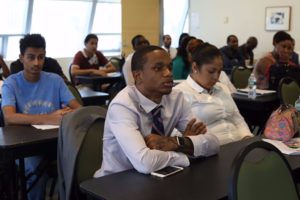 Our breakout sessions gave young people an opportunity to interact in smaller groups and learn from amazing educators. Our "Employment and the Future of Work" workshops included: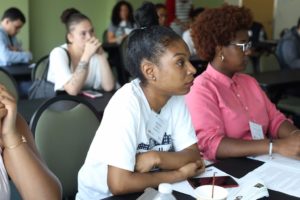 The afternoon breakout sessions tackled, "Advocacy, Equity, and the Future of Work" and included
Finally, we would like to thank everyone who attended Adapting to the Future of Work: Skills for Tomorrow Economy, as well as, all of our presenters, partners, funders, and young people who made this event possible. We look forward to our next event with all of you as we work towards expanding opportunities for out-of-school, out-of-work young New Yorkers. If you were unable to join us this time, we look forward to seeing you next year for our 2018 Adapting to the Future of Work convening.