"I am living my passion. I wake up everyday ready. Do you wake up everyday ready?"
This is how Marjorie Parker, JobsFirstNYC's President and CEO, welcomed guests at Adapting to the Future of Work: From the Ground Up, a two-day convening for practitioners, policymakers, philanthropic leaders, employers and other stakeholders to celebrate, inspire and strengthen the community.
Commemorating her first anniversary in this leadership role, and the twelfth for JobsFirstNYC, her opening remarks not only set the stage for two days of reflection and community-building, but also sent a defiant message of organizational and personal commitment to bettering the lives of young adults in New York City through innovative collaboration, and systems improvement and alignment. Held on July 11 and 12, 2018 at CUNY's Baruch College, the event convened close to 400 people from local and national organizations—including more than 200 young adults from New York City workforce development programs.
Day One
Highlight video here
The first day brought together leaders from New York City's workforce development field to reflect on JobsFirstNYC's 12-year history working with local communities to build multi-stakeholder partnerships and ​reflect on​ ​the power of communities organizing to accelerate change.
Optimism and Idealism as a Drive for Everyday Work
A highlight of the day was the keynote address by Karim Abouelnaga, an under-thirty TED and Echoing Green Fellow, entrepreneur and writer who, at the age of eighteen, founded Practice Makes Perfect, an organization that seeks to redefine the summer learning experience for all children. The Forbes' 30 Under 30 alumnus built on Ms. Parker's opening remarks, urging the audience to let their optimism and idealism for change drive their everyday work. Mr. Abouelnaga was introduced by Djibril Kaba, a JobsFirstNYC and Young Invincibles' Impact Fellow and an alumnus of Per Scholas' Computing Technology Industry Association A+ certification program. "The only change and the real change that we need to have happen, only happens in the sense of idealism—this sense of belief; this belief and hope that we can change the current situation that we're in," concludes Karim in his address.
"The only change and the real change that we need to have happen, only happens in the sense of idealism—this sense of belief; this belief and hope that we can change the current situation that we're in," concludes Karim in his address.
The Power of Partnership
Similarly powerful and inspiring were the Ignite Presentations: The Power of Partnership, six-minute presentations by JobsFirstNYC's partners:
The Bronx Opportunity Network (BON) – presented by The Door's Director of the Bronx Youth Center, Elizabeth Hoagland, and Assistant Director of Education & Out of School Youth Program Director, James Johnson.
The Lower East Side Employment Network (LESEN) – presented by Gaspar Caro, LESEN Coordinator, and Simon Chiew, Chief Strategy Officer at the Chinese-American Planning Council, Inc.
The Young Adult Sectoral Employment Project (YASEP) – presented by Monique De La Oz, Senior Director of Learning and Career Development at Phipps Neighborhoods, and Lowell Herschberger, Director of Career and Education Programs at Cypress Hills Local Development.
Youth Workforce Initiative Network of Staten Island (Youth WINS) – presented by Brian Licata, Deputy Director of Workforce Development, United Activities Unlimited, and Faoziyat Sanusi, Coordinator for YouthWINS.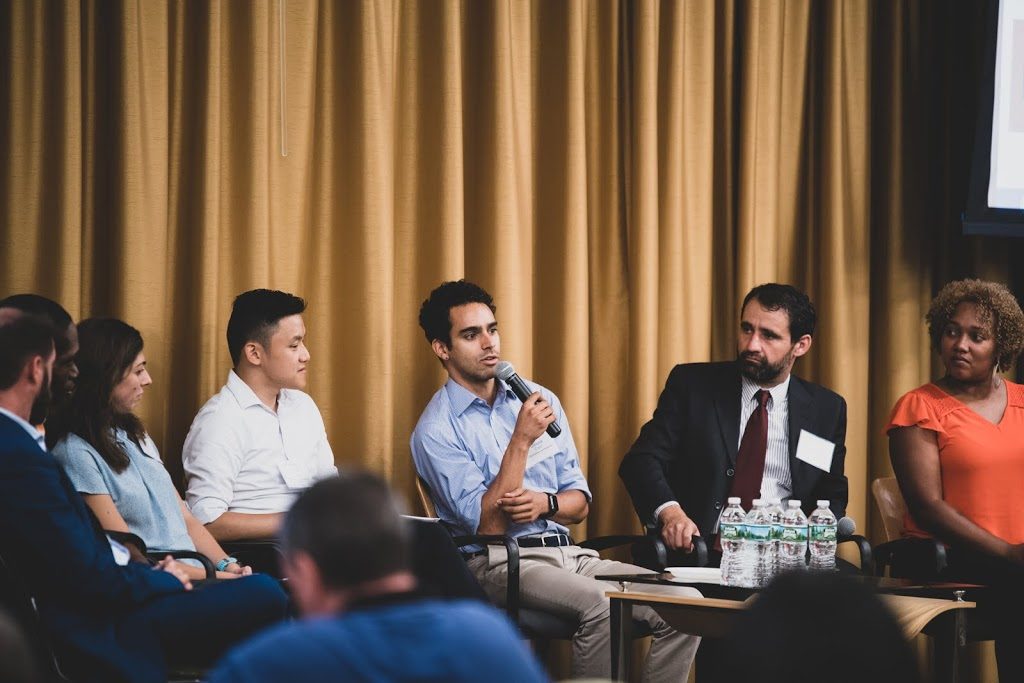 The presentations served as a reminder about JobsFirstNYC's track record of being in service to young adults and the workforce development community throughout New York City, and that through partnering together we provide more and better economic opportunities for young New Yorkers.
Looking Back to Forge Ahead
Whereas the place-based partners' presentations helped contextualize JobsFirstNYC's practice and impact in community organizing, our panel discussions engaged the audience in dialog around the economic challenges and opportunities young adults face in today's economy.
In the first panel, Looking Back to Forge Ahead, long-standing partners and supporters recapped JobsFirstNYC's influence in the field and shared anecdotes that demonstrate the organization's ability to leverage resources. The panel featured Laurie Dien, Vice President of Programs at the Pinkerton Foundation; Betsy Dubovsky, Executive Director at The Staten Island Foundation; and Jim Marley, Coordinator of CUNY and Bronx Opportunity Network Interface Lead at Good Shepherd Services. This panel was moderated by Stanley Richards, Executive Vice President at The Fortune Society and member of JobsFirstNYC's Board of Directors.
Systems Alignment and Impact: Building Sustainable Strategies
The second panel, Systems Alignment and Impact: Building Sustainable Strategies, featured professionals from organizations across the nation—all working to increase economic opportunities for young adults—in a conversation about the interconnectedness of challenges young adults face and the importance of implementing large-scale collaborative solutions as an approach to systemic change.
This panel included Angie Kamath, University Dean at CUNY; Abby Marquand, Vice President at JPMorgan Chase Global Philanthropy; Kimerly Pham, National Center for Youth Law Co-Founder and Opportunity Youth United's Community Civic Engagement Liaison; Robert Sainz, Assistant General Manager at the City of Los Angeles' Economic Workforce and Development Department,John Thorson, Hennepin County Workforce Development Director in Minnesota. This conversation was moderated by Alan Momeyer, Vice President Emeritus, Human Resources, at the Loews Corporation and Chair of JobsFirstNYC's Board of Directors.
Day Two
Highlight video here
The second day, in collaboration with the New York City Department of Youth and Community Development and Young Invincibles, convened over 200 young adults ages 16–24 to to network, participate in professional development, connect with successful young professionals, and become inspired by their personal stories and professional journeys.
Ms. Parker kicked off the event raising consciousness about the challenges and opportunities of tomorrow's workforce, the importance of adaptation in keeping with the demands of the job market, and the role young adults can play in shaping the future of work through advocacy and policy change.
Turning Personal Struggles into Assets Toward Professional Pursuits
Ms. Parker's remarks were followed by Vidal Guzman, Community Organizer at JustLeadershipUSA, who delivered the keynote address. Mr. Guzman candidly spoke about his challenges growing up in a drug-infested low-income neighborhood of New York City, his experiences in and out of the criminal justice system and coping with homelessness, and his success turning those struggles into positive pathways. Today, as a community organizer, Mr. Guzman's focus is on #closerikers, a campaign to close the Rikers Island jail complex and transform New York City's criminal justice system, turning his personal struggles into assets towards his professional pursuits. Powerful and forthright in his delivery, Mr. Guzam's story resonated with many in the audience, setting the stage for similar conversations happening throughout the day in panels and breakout sessions.
Entrepreneurship: Connecting Passion and Experiences To Career Pathways
The morning panel, Entrepreneurship: Connecting Passion and Experiences To Career Pathways, featured Alvin Irby, Founder & Chief Reading Inspirer of Barbershop Books, who urged young adults to connect their passions to careers, illustrating this through anecdotes from his work in comedy and education; Rhonesha Byng, Founder & CEO of Her Agenda, who shared her experience and advice about creating and running a digital media platform that bridges the gap between ambition and achievement for millennial women; Quardean Lewis-Allen, Founder & CEO of Made in Brownsville, who, as a native of Brownsville, Brooklyn, inspired the audience by telling details about his education at Harvard and his work in the creative industry in Brownsville; and, Idalin Bobe, Founder of TechActivist, a fervent speaker who shared her struggles and current success in the tech industry as a woman of color who speaks with an accent and comes from a low-income neighborhood. The discussion was moderated by Keenan Thom, Project Manager at HERE to HERE.
Opportunity Youth United: Advocacy and the Future of Work
The afternoon panel, Opportunity Youth United: Advocacy and the Future of Work, focused on the role that "opportunity youth"—a term often used for out-of-school, out-of-work young adults aged 16–24—can play through activism in shaping how tomorrow's economy and the future workforce look like. The panel was moderated by Jamiel Alexander, Senior Fellow at the Aspen Institute's Forum for Community Solutions, and featured Shawnice Jackson, Youth Advocate/Co-Founder of National Council of Young Leaders; and Breeanna Decker, Youth Leader at Urban Strategies Council. As former out-of-school, out-of-work young adults now leading a national movement to increase opportunity and decrease poverty, this panel motivated the audience to think about their personal perseverance and their role in activism.
Equally inspiring was our conversation with public officials, kicked off by Bill Chong, Commissioner of the NYC Department of Youth and Community Development. Commissioner Chong advised participants to ask themselves what their passions are and to link that to careers that motivate them to get up in the morning. This conversation continued with elected officials Councilmember Rafael Espinal and Assemblywoman Carmen De La Rosa, who both recommended young adults put dedication into everything they're doing, while speaking about the experiences that led them to seek public service as a career. The conversation with elected officials was facilitated by Marissa Martin, Northeast Director at Young Invincibles.
Finally, we had two sets of breakout sessions that provided a platform to continue and dig deeper into the conversations started during the panel discussions.
Linking Your Passion and Experience to Careers Breakout Sessions
YOUR Voice and the Future of Work Breakout Session
Leading Movements in Today's World: Advocacy & the Workforce, engaged participants in an exercise to develop solutions around issues that directly impact their communities; presented by Samantha Johnson, Coalition Co-Chair at the NYC Chapter's Million Hoodies Movement for Justice.
Planning for a Stronger Future in Our Communities, helped participants connect their own personal moral codes and values to lived experiences that have been impacted by structural barriers such as employment, education, or housing; presented by Roosevelt Institute's Program Associates, Nicole Annunziata and Jade Wilenchik.
Breaking Through the Noise: Using Op-Eds to Make Your Voice Heard, taught what an op-ed is, how to write a compelling op-ed, and how to get it published; presented by Paydon Miller, Press Secretary at Young Invincibles.
The Power of Peers & The Ever Growing Workforce, explored Youth Peer Advocacy (YPA), discussed what it means to be a YPA, and engaged in interactive activities to explore the YPA role.
Informed Opinions Purposeful Advocacy, shared strategies from the presenter's current and past work for engaging in community advocacy to bring positive change; presented by Breeanna Decker, Youth Leader at Urban Strategies Council.
Youth Voice – a common thread of both days
While each day was developed for and targeted different audiences, youth voice, youth empowerment and learning were common threads of both. A recurring and powerful segment that captured these themes each day was a performance by the Truthworker Theatre Company, a social justice-based, hip-hop theatre company whose members, young adults themselves, write and produce their performances. Under the direction of Samara Gaev, who facilitated full-room conversations after each presentation, the group's performance raised awareness around race, gender and economic justice, and helped participants make the connection between these issues and the future of work.