A JobsFirstNYC Working Paper
The COVID-19 pandemic threatens the health and economic well-being of New Yorkers. It exacerbates preexisting inequities that young adults and their communities have long faced, leaving many with few opportunities to protect their health and continue earning a paycheck to support their families.
Prior to COVID-19, while the economy was seemingly strong, the statewide young adult unemployment rate was high. Since the statewide PAUSE order on March 22nd, young adults have experienced a disproportionate share of job loss and are likely to remain unemployed even after the shutdown ends. Young adults fared poorly during and after the 2008 recession, never truly recovering from the economic damage. As New York faces a multibillion-dollar budget shortfall and has already made substantial cuts to young adult summer employment and programming, young adults and their communities are already being set up for a difficult recovery.
To complicate matters, many of the institutions that support out-of-school, out-of-work young adults have suffered devastating impacts already as a result of the pandemic, with reductions in funding and personnel, and more funding cuts expected down the line, all while rapidly changing their service delivery approach.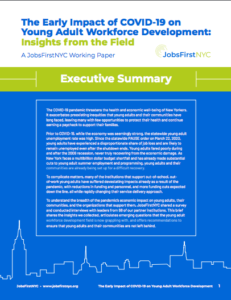 To understand the breadth of the pandemic's economic impact on young adults, their communities, and the organizations that support them, JobsFirstNYC shared a survey and conducted interviews with leaders from 68 of our partner institutions. This brief shares the insights we collected, articulates emerging questions that the young adult workforce development field is now grappling with, and offers recommendations to ensure that young adults and their communities are not left behind.
7 Insights from the Field
Household finances are declining rapidly as COVID-19 exacerbates preexisting inequalities in the areas of food, housing, health, and financial insecurity.
Having a job has become a matter of life and death, not just employment.
The pandemic is causing young adults to face greater competition for jobs, internships, and work-based learning experiences.
Young adults and nonprofit staff are facing rising mental and physical health needs.
The transition to remote teaching and learning is not meeting all of the needs of young adults and will negatively affect their skills training and educational progress.
Funding is flexible right now, but nonprofits are bracing for drastic public funding cuts.
The future of the labor market is uncertain, leaving workforce providers and jobseekers without a roadmap.
3 Emerging Questions
How can the workforce development field better prepare young adults for shifts in the labor market brought on by the global pandemic?
What innovations can curb the impact of reduced staffing, layoffs, and loss of talent on the nonprofit sector?
How does the workforce development field become more engaged in policy decisions on economic rebuilding at the city and state level?
6 Immediate-term recommendations
Hold the line on cutting funding for critical programs and convert current funding to general operating support for at least the next year.
Create opportunities for the workforce development field to rightsize its organizations.
Invest in mental health counseling and support services.
Invest in institutional partnerships between the workforce and educational systems.
Map in-demand skills and partner with employers to develop new strategies to improve educational and training programs for young adults.
Young adult workforce development advocacy must call for significant investment in big ideas and emphasize low-income communities.
Long-term recommendation
Develop a clear approach to systems transformation that is designed to better prepare young adults for a post-COVID-19 economy.
Despite the urgent need for immediate action to get through the COVID-19 storm, the workforce development community must also focus on developing a coherent long-term vision for preparing young adults to fully participate in the civic and economic life of society. Young adults, the nonprofits that serve them, and the businesses that employ them are facing unprecedented challenges. Through collaboration, joint advocacy, and continued investment in young adults and the communities in which they live, we can create a system that ensures that all young people have an opportunity to achieve the social and economic well-being that they deserve.