There are many barriers that prevent people living with disabilities from accessing the employment market, most are often based on misconceptions of a disabled person's abilities. As a labor pool, people with disabilities are a source of reliable workers, regardless of the nature of their disability. <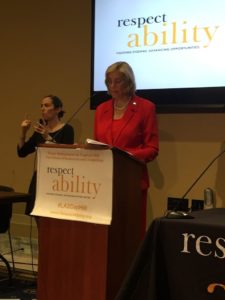 Jennifer Mizrahi, President of RespectAbility
On July 31, 2017, RespectAbility hosted From Hollywood to Capitol Hill: The Future of Americans with Disabilities, a conference in Washington, D.C. RespectAbility is a nonprofit, nonpartisan organization that works with entertainment, policy makers, educators, self-advocates, and online media to fight stigmas and advance opportunities for people with disabilities. The summit's central focus was on bridging the gap between entertainment, politics and disability advocacy. Featured guests included: Casting Director and Producer Leah Daniels-Butler, the One-Arm Golfer Tommy Morrissey, and Food Network host Marc Summers. The event was a celebration of the positive impact made by efforts to end stigmas and advance opportunities for the 57 million people living with disabilities. President of RespectAbility Jennifer Laszlo Mizrahi — self-proclaimed "twice able" dyslexic and parent to a child with multiple disabilities — gave the opening remarks.
The summit examined the positive impact people living with disabilities could have on a business's bottom-line. People with disabilities bring unique characteristics and talents to the workplace, which benefit both employers and organizations. RespectAbility argued, "If we find the right jobs for the right people with [disabilities], it can and does increase the bottom line of companies."
Leah Daniels-Butler who is most notable for casting the award-winning film, Lee Daniels' The Butler and television's Empire, shared why she is hopeful about the future of inclusive casting and the workplace in general, "There is a new generation pushing the disability movement forward. [Young people] are removing the stigma and are thinking differently."
When asked by a member of the audience what advice he would give to a person with a disability trying to get into the entertainment industry, Steven James Tingus, National Disability Policy Expert and Actor answered, "Do your homework and be persistent, and get in the right way." What exactly is the right way? Tingus added, "You work hard and start from the bottom at an entry level position and work your way up. That's how you do it." In essence, show up and show your value.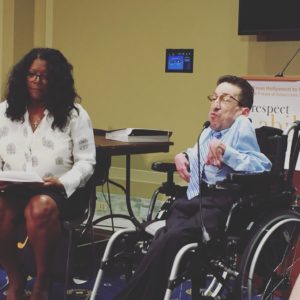 Leah Daniels Butler, Casting Diretor; Steven James Tingus, Actor
Disparities in employment, income and poverty are greater for people with disabilities living in New York City than they are at the State or National level. In New York City, there are 889,219 individuals with disabilities; that is, 11.0 percent of the population. The Bronx has the highest percentage of people living with disabilities in the five boroughs of New York City, while Manhattan and Staten Island have the highest numbers of people with disabilities. The employment gap between people with and without disabilities who are working is 41 percent and median earnings for people with disabilities lag more than $25,000 behind. Since stigma continues to impede the hiring of people with disabilities, employers must take action to improve the work environment. Ollie Cantos the highest-ranking blind person in the federal government, noted that we "must address disability diversity policies" and practices in order for people living with disability to see real change.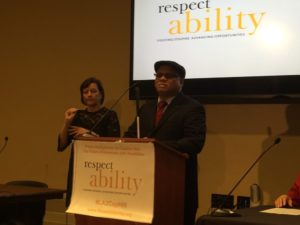 Ollie Cantos, Government Attorney
"People with disabilities have the ability to adapt to different situations and circumstances perhaps better than any other group and have long proven themselves to be dependable employees," said Marc Summers, who has been the National Spokesperson for the Obsessive Compulsive Foundation and has appeared on Oprah, the Today Show and Dateline discussing the issue. Summers stated that his OCD made him persistent, "nothing, not even hundreds of rejections would stop me."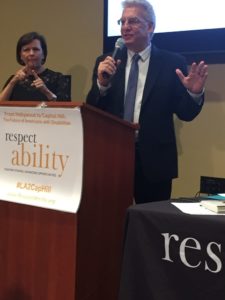 Marc Summers, TV Personalty
People with disabilities have fresh ideas on how to solve problems and complete assigned tasks. Brilynn Rakes, a visually-impaired dancer and RespectAbility Communications Fellow, is working on changing the existing narrative in Hollywood to ensure accurate and positive cultural media portrayals of people with disabilities. Rakes, who has performed works by Donald MyKayle, Christopher Huggins and Jose Limon, and was invited to participate in the New York City Finals of the International Ballet Competition and Youth American Grand Prix in 2012 and 2013, described how she learned to find her balance by utilizing her peripheral vision. Rakes said, "my balance is just as good as the elite professional dancers in the business."
Tommy Morrissey, the 11-year-old one-arm Golfer — despite being born without most of his right arm — at the age of three was deemed a golf prodigy, and today travels the world advocating for other limb different children. Tommy's father said, "My son is creating records, not breaking them!"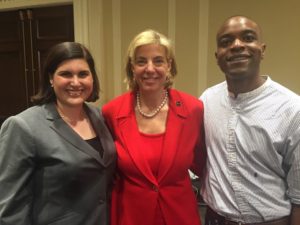 Lauren Appelbaum, Director of Communications;
Jennifer Mizrahi, President of RespectAbility;
Darren Cole JobsFirstNYC
RespectAbility's From Hollywood to Capitol Hill: The Future of Americans with Disabilities highlighted the untapped value of people living with disabilities and seems to be paving the way for more businesses to add people with disabilities to the diversity conversation and talent pipelines.