Following the release of Online but Disconnected: Young Adults' Experiences with Online Job Applications, JobsFirstNYC convened employers, workforce practitioners, policy-makers, and thought leaders to lift up the report's findings that personality assessments are inappropriate for young adults, unreliable screening tools, and may violate the civil rights of job applicants.
Researcher and author, Margaret Stix of Lookout Hill Public Policy Associates, framed the conversation, presenting on her research methods, her many surprising discoveries, and her reason for ultimately drawing the conclusion that online personality tests are discriminatory. She was then joined by Eva Grote, AmeriCorps Program Director at St. Paul's Community Development Corporation, who had worked with Margaret filling out mock applications throughout the research process; and Sarah Steinberg, Vice President of Global Philanthropy at JPMorgan Chase & Co., and author of a recent report exploring similar themes, Swiping Right for the Job. The panel grappled with some of the more problematic findings highlighted in Online but Disconnected. Grote recalled that in some applications she filled out, the "right answer" for communicating with a white customer was 180 degrees from the answer expected when confronting a similar situation with a black customer.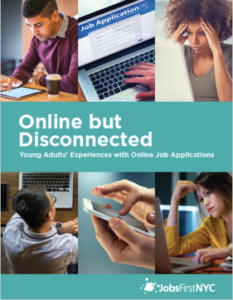 Turning to potential solutions, our second panel convened representatives from businesses that have adopted effective job-related hiring and recruitment practices. Panelists included: Aloni Atkins and Johanny Mateo, Recruiting Strategists for the Northeast Region at Chipotle Mexican Grill; Marie Davis, Executive Director of 100,000 Opportunities Initiative; Kimberly Gilsdorf, Associate Director with FSG; Andrea Shimer, Director of Human Resources at Old Navy, Gap Inc.; and moderator Alan Momeyer, Chief Human Resources Officer Emeritus at Loews Corporation and JobsFirstNYC's Board Chair. The conversation showed that there are pros and cons to many of these alternatives. Chipotle, for example, has found that their commitment to in-person interviews is an immense task – particularly in the New York City market – that requires thoughtful workarounds, including group interviews and additional staff. Still, there was a clear consensus that the cons do not outweigh the pros of offering a more equitable standard and access for low-income young adults.
With many national chains leaning more and more on job applications that have difficult personality assessments, it's critical that we continue to advocate on behalf of the young adults who are potential victims to this discrimination. The research shows clearly that job performance and answers on these tests have a statistically insignificant correlation, yet, personality assessments are still used by many New York City retailers and some hospitality companies. Worst of all, these employers may unknowingly be violating the civil rights of young job seekers.
Join the conversation using #ApplicationDenied. Twitter: @JobsFirstNYC