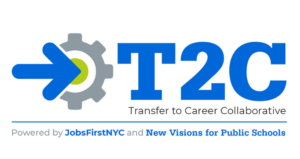 Overview
Implemented in partnership with New Visions for Public Schools, the Transfer 2 Career Collaborative is an innovative career development strategy for transfer high school students that seeks to improve the postsecondary and workforce outcomes of New York students most at risk of becoming part of the out-of-school, out-of-work population. Consisting of 12 transfer high schools and 11 workforce development organizations, it aims to universalize career exploration and awareness; embed advanced career development into school design; and build bridge programs to sector-specific post-secondary opportunities.
The Challenge
Of the city's 53,000 over-age, under-credited high school students, about 15,000 attend transfer high schools—small schools that are not organized by age or grade but instead by credit accumulation to help off-track students graduate with a high school diploma. Currently, these schools are not equipped to integrate career readiness into their curricula, provide high-quality work-based learning experiences, or connect graduating students to post-secondary education and training that leads to careers.
25%
TRANSFER HIGH SCHOOL GRADUATES ENTER POSTSECONDARY within 6 months
15,000
OVER-AGE, UNDER-CREDITED STUDENTS ATTENDING TRANSFER SCHOOLS IN NEW YORK CITY
54%
TRANSFER HIGH SCHOOL STUDENTS GRADUATE WITH A HIGH SCHOOL DIPLOMA BY THE AGE OF 21
70%
OF ALL JOBS WILL REQUIRE SOME POST-SECONDARY EDUCATION OR TRAINING AFTER HIGH SCHOOL BY 2027
Approach
The small-school design of transfer high schools provides a unique opportunity to enrich student experiences through a sequence of high-quality career development activities that form a core part of their education. The Transfer 2 Career Collaborative capitalizes on this opportunity by offering a multiple-phase student experience that includes a core and enhanced curriculum; high-quality work-based learning experiences across the career development continuum; individualized career development support; and case management and wraparound support services. The approach is designed to help students recover credits, graduate from high school, experience success in postsecondary education and training, and launch careers in growing industry sectors. Importantly, this framework is organized in competency-based phases rather than by age or grade, allowing students to progress through the initiative at their own pace.
Impact
Leveraging the small school design of Transfer High Schools with intensive wrap around support services and internship stipends, JobsFirstNYC and New Visions for Public Schools are building partnerships between 12 Transfer High Schools within the New Visions network and select workforce development and training organizations with a track record of working with out-of-school, out-of-work young adults. These partnerships form the School Design Team made up of School principals, Learning to Work Program Directors and Internship Coordinators, and leaders from workforce development organizations. By operationally integrating these workforce development organizations into the schools, these school-based partnerships will: 1) provide career awareness and exploration services to all student; 2) integrate advanced career development into the school design; and, 3) build bridge programs to sector-specific postsecondary opportunities.
27
Learning Communities Convened
40
Partners in a Community of Practice
12
Industry-Recognized Certificates Available to Students
3766
STUDENTS ENGAGED IN NEW CAREER DEVELOPMENT OPPORTUNITIES
Subscribe to Stay Updated